It's almost Father's Day and time to appreciate all the special people who've played a fatherly role in our lives. With a little time and effort, you can make Father's Day more meaningful with awesome homemade gifts and activities. As we know, Father's Day might look different this year —which is all the more reason to spend some quality time with him. Here is a list of homemade DIYs and activities that are perfect for doing just that. We hope you'll be inspired by one of these projects— because no matter what you do, creating great memories together will last a lifetime.
DIY Gifts for Dad
Upcycle ordinary materials into extraordinary gifts!
These stitch cards are super fun and easy for little kids to make. Design a card that matches up to Dad's hobbies.

Learn more: Easy Stitch Card

Make this DIY picture frame and fill it with a special photo for Dad to enjoy on his desk. Your kids will enjoy ripping lots of pages out of magazines and then cutting them all into strips. By then end of this project, they will have mastered the joy of rolled paper craft and have something wonderful to show for it.

Learn more: Rolled Paper Picture Frame
Tell Dad he rocks! Encourage your child to find a flat, oval-shaped rock to make this super simple project that will make him laugh!
Learn more:"My Dad Rocks" Paperweight
Make this DIY catapult that doubles as a desk toy. (It's easy to build from common office supplies!) Now, when Dad takes a break to launch a few pom-poms from his DIY catapult, he will think of you. Or better yet, maybe you can launch some pom-poms, too, and turn it into a contest!
Learn more: Desk Catapult

For the dad who loves music, make this cool DIY Guitar using a plastic bottle. In the process of assembling this guitar, you will learn how to tie a series of useful knots. Once you master the knots, the building process only takes 2-3 minutes. Rock on!

Learn more: A Recycled Bottle Guitar

Activities To Do Together
Here are some awesome Father's Day activities to bring everyone closer.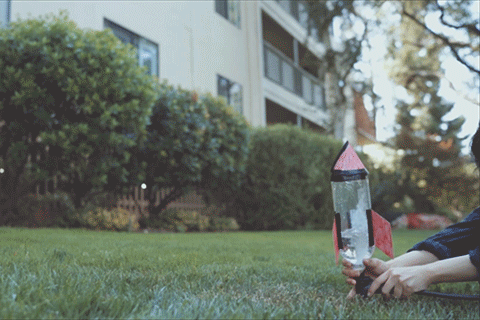 Celebrate Father's Day with a bottle rocket launch! Make the rocket, fill it with water and blast it sky-high!
Learn more: Launch a Bottle Rocket
For an indoor athletic activity, play a game of balloon tennis! Make simple racquets out of paper plates and craft sticks, blow up some balloons, and get ready for a round of friendly balloon tennis. Let the games begin!
Learn more: Play a Game of Balloon Tennis
For a fun indoor sport, challenge Dad to play a game of miniature football! Fold up an origami football, set up a goal, and blow the whistle for kick-off!
Learn more: Play Paper Football

Make Every Day Father's Day
These KiwiCo crates provide creative crafting projects to do together for any time of the year.
For a super fun gift, create this physics-friendly basketball catapult. Aim, shoot, and score! Engineer an adjustable catapult and challenge your dad to a spirited game of basketball as you both learn about the science of sports.

Learn more: Basketball Catapult

Assemble a hand-crank flashlight with Dad and take it on an outdoor adventure. Spend time together exploring at night.

Learn more: Hand-Cranked Flashlight

Explore the science of sound by building an amplification circuit to power your own light-up speaker.

Learn more: Light-up Speaker
Spend Father's Day playing with fire! With the Fire Lab crate you will create a colorful flame lamp and complete seven different combustion experiments that explore the chemistry of oxidation, the flame test, and light energy.
A pack of KiwiCo crates or subscription to one of our lines is a journey of learning and exploration through the summer. We have crates for every age and interest!